The daily brief is a free glimpse into the prevailing fundamental and technical drivers of U.S. equity market products. Join the 1,200+ that read this report daily, below!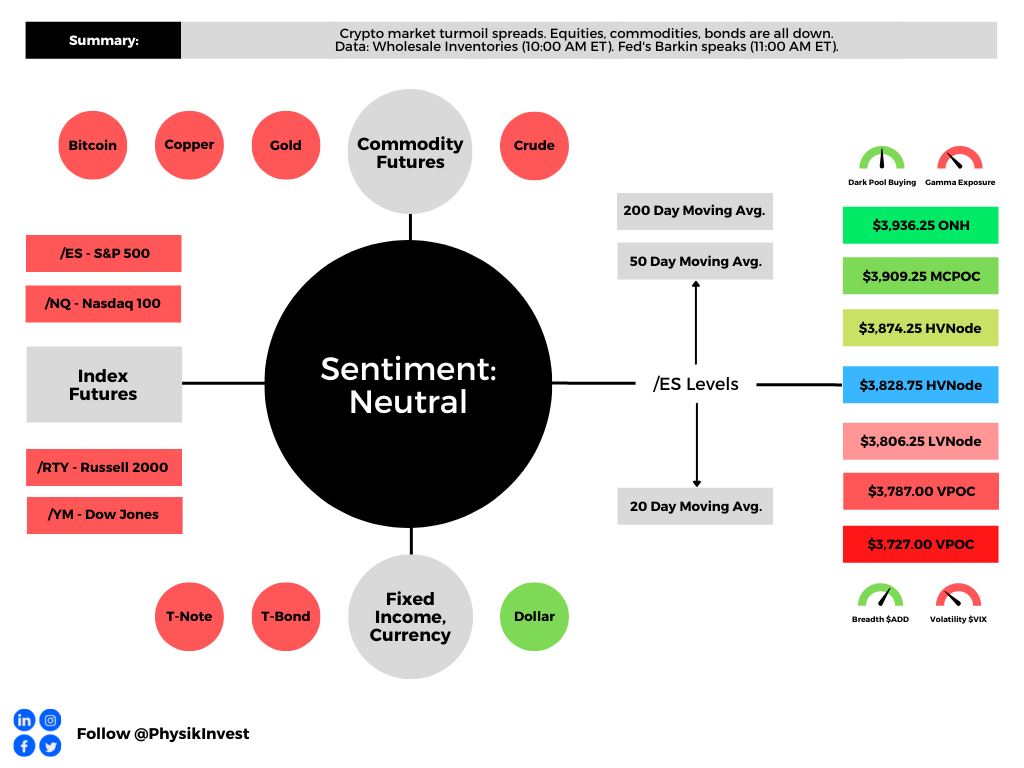 Fundamental
A crypto-market leader and a lender of last resort – FTX – co-founded by Sam Bankman-Fried (SBF) was little questioned by many. It appears, however, that the company had growing pain points.
Events are developing quickly, too add. Here is a note that SBF issued to investors after entering into a nonbinding agreement with Binance.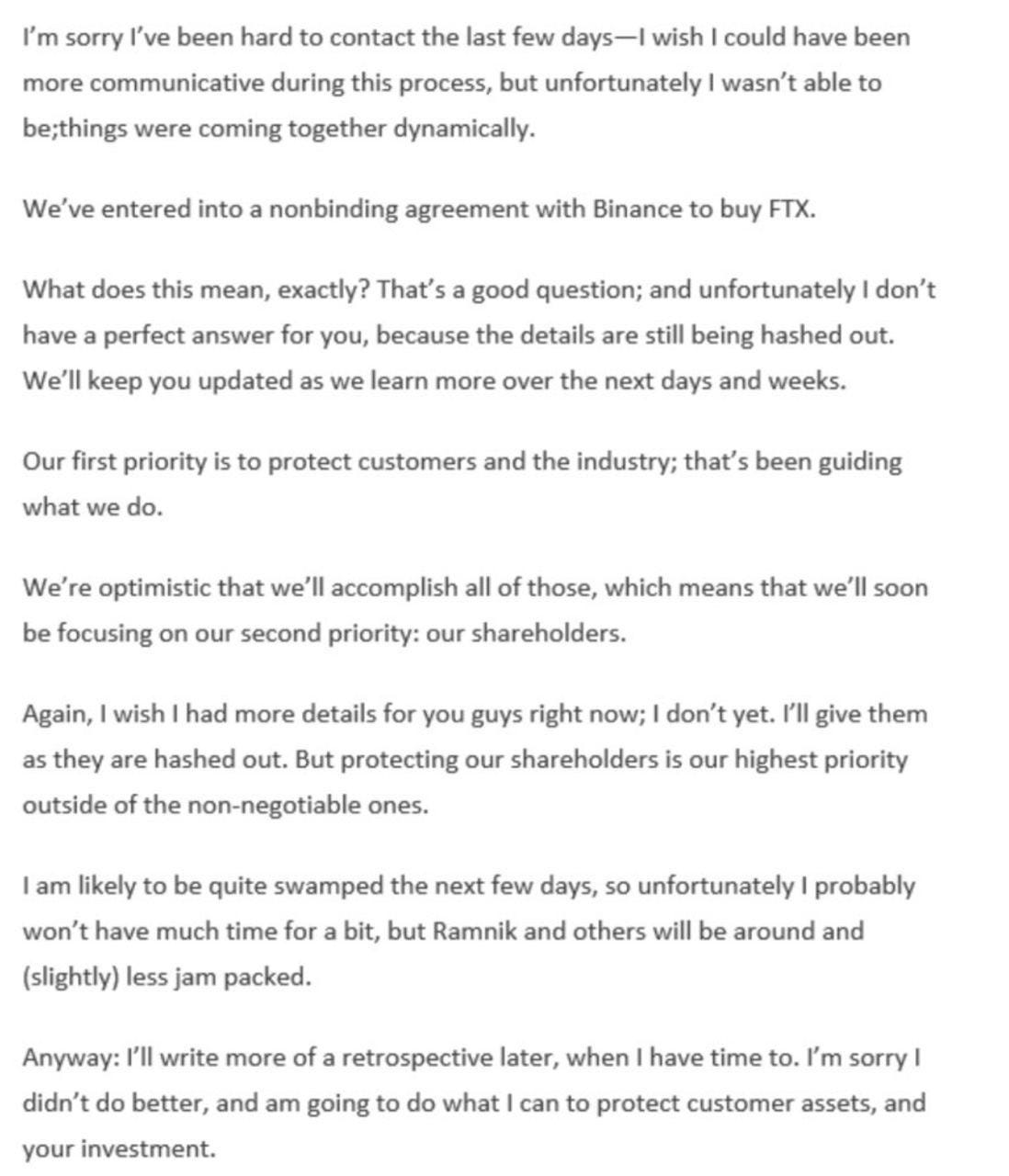 In short, there's little substance.
Let's go through the motions and start unpacking this debacle. Should we have loose ends, we'll address those in the coming days.
In late December of 2021, I spoke with SBF regarding his background and aims with FTX. The resulting work was published on Benzinga.com, where I continue to work part-time as a writer and project lead.
In short, SBF is an MIT alumnus who started in finance at Jane Street, a trading firm and liquidity provider. Eventually, he saw an opportunity elsewhere; there were spot price inconsistencies across cryptocurrency exchanges.
SBF then founded the firm Alameda Research in 2017. A focus, there, was to extract premiums to spot via arbitrage. SBF et al would purchase Bitcoin (CRYPTO: BTC) domestically, send it to foreign exchanges to sell at higher prices, and, then, convert and wire the funds back.
​​"You do have to put together this incredibly sophisticated global corporate framework in order to be able to actually do this trade," SBF said in one conversation. "That's the real task, the real hard part."
In light of some frustration with existing exchange offers, SBF founded FTX.com and FTX.US parent FTX Trading Ltd. As late as September 2022, FTX was seeking $1 billion at a value of $32 billion. The firm was looking to become a one-stop-shop for retail and institutional market participants such as FTX brand ambassador and spokesperson Kevin O'Leary who I talked to just prior to my interview with SBF.
"If you're being compliant internally and also with regulators in each jurisdiction you operate in, you don't have the option to be off-sides," O'Leary explained to me on FTX building one of the larger infrastructures institutions' compliance departments could easily "work with and external auditors can audit."
Eventually, the exchange grew to become a major player.
FTX was a top-five exchange, adding market share through acquisitions of players like Blockfolio and LedgerX, as well as building a reputation of transparency, or so it appeared, through its work with regulators.
Adding, SBF said to me he wanted FTX to cater to other asset classes and "become a global liquidity venue across the board." In mid-to-late this year, FTX added stock trading via no-fee brokerage accounts, a follow-through on his vision.
The expansion narrative cooled, however. There was the collapse of the TerraUSD stablecoin, Celsius Network, Three Arrows Capital, and Voyager Digital, which FTX's subsidiary in the US, FTX.US, won assets to in an auction this year.
At the surface, it appeared FTX was "seemingly untouchable," as Immutable Holdings' Jordan Fried explained online. Check out my last chat with Jordan Fried, here.
However, "cracks started to appear [and] people in crypto were taking notice"; the CEOs of both Alameda Research and FTX.US stepped down. Fried added that the situation worsened when Alameda Research's balance sheet was leaked.
The firm had $14.6 billion in assets (nearly $4 billion in FTT, which is FTX's utility token, and about $2 billion in FTT token collateral) against $8 billion in liabilities.
"Binance owns a bunch of FTT themselves and, two days ago, Changpeng Zhao (CZ) [who is the] founder of Binance, [said] that SBF … could be lobbying to get regulators to help out FTX more than Binance." In response, CZ was to "dump all $2 billion of FTT" Binance was holding.
This coincided with a large selling pressure on the FTX utility token. With Alameda Research having ~50% of their assets in FTT, Fried says, "they were dead in the water". A run appeared likely and, with FTX and Alameda Research's dealings so intertwined, "the failure of one meant the failure of another."
On the heels of billions in withdrawals, users weren't "getting their cash" and, ultimately, in SBF seeking to protect users' assets, FTX entered into a strategic transaction with Binance.
The follow-on impacts of this week's events, during which SBF saw a ~90% wipeout of his wealth, can be speculated on. Apparent losers include SoftBank Group Corporation's (OTC: SFTBY) Vision Fund, the Ontario Teachers' Pension Plan, and Tiger Global Management.
Some, including Arthur Breitman of Tezos (CRYPTO: XTZ), mulled the impact of FTX's potential divestment from Solana (CRYPTO: SOL) which "took a drubbing Tuesday," along with just about every other crypto token including Bitcoin.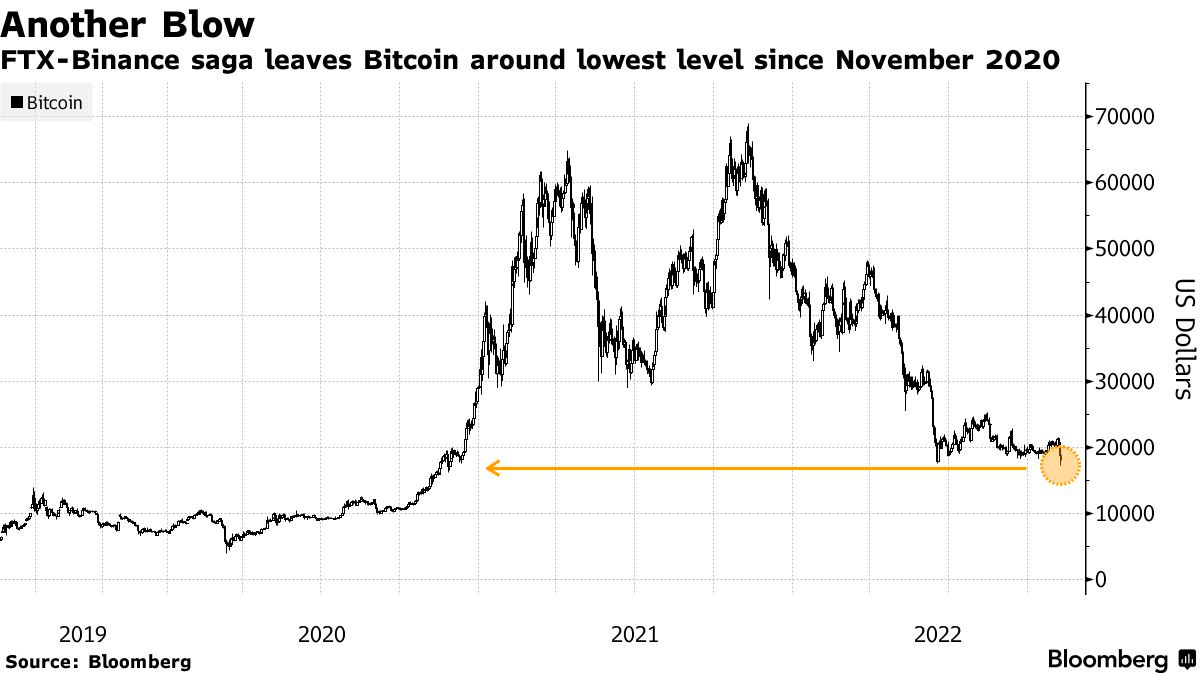 Noteworthy are the impacts of this crypto-market turmoil in equities. As I stated in a note to SpotGamma subscribers yesterday, following "news of a liquidity crunch at FTX, when the selling accelerated in FTT [] and Bitcoin, so did the selling in the S&P 500."
"The bottom, in all three products, happened at 2:30 PM ET."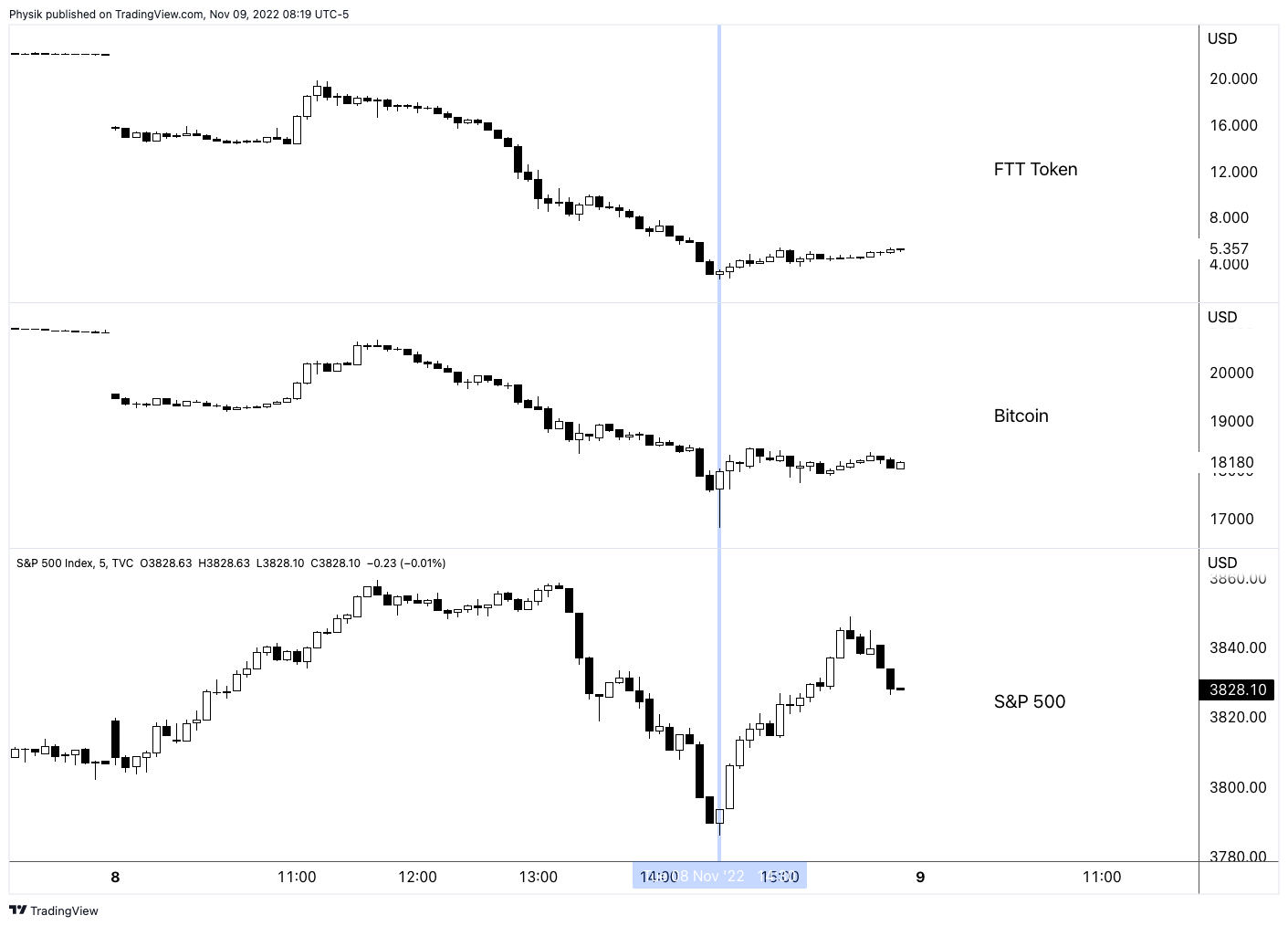 I add that these products – S&P 500 (INDEX: SPX) and Bitcoin – have traded in sync and held positive correlations.
In short, both are recipients of the same risk-on and -off flows. Easy monetary policies cut financial asset volatility and pushed market participants into riskier investments. In short, it was easier to borrow and make longer-duration bets on ideas (e.g., crypto and Ponzi-like DeFi, growth, risky private equity investments) with a lot of promise in the future.
Financial asset investments were more attractive. That's, in part, why we saw asset inflation early on in 2020 when policymakers embarked on historic interventions.
Monetary authorities cut interest rates and bought bonds, all the while money was sent to people. Risk assets were the first to respond. Then, as the economy reopened, demand picked up, supply chains tightened, and prices in the real economy inflated.
As we added on Monday, de-globalization and persistent supply chokepoints (e.g., Ukraine and Russia) have done little to help. Inflation remains a problem and investors are seeking safety amid Fed intervention.
Financial assets are in less demand while real assets are in more demand. A disruption (or reversal) in these policies puts at risk the prevailing carry regime. A stock and crypto market drop is, in part, the result of an unwind in carry.
The drop is a deflationary shock, precisely what policymakers are seeking, per Credit Suisse Group AG's (NYSE: CS) Zoltan Pozsar who says inflation is a structural issue, and "we [have] to generate a round of negative wealth effects to lower demand such that it becomes more in line with the new realities of supply."
As we established on Monday, that invokes "collateral damage to the US economy," S&P Global Inc (NYSE: SPGI) economists have put forth "as households and businesses pull back spending and investment."
For example, just announced today, Meta Platforms Inc (NASDAQ: META), which became wrapped up in the speculativeness of the early 2020s reaching beyond the crypto markets, hence the name change from Facebook Inc, is seeking to cut 11,000 jobs.
Per Bloomberg, "the macroeconomic downturn, increased competition, and ads signal loss have caused [] revenue to be much lower than expected."
Ultimately, a deflationary pulse manifesting disinflation in consumer prices may prompt the policymakers to reverse on rates and efforts like quantitative tightening (QT), the (out)flow of capital from capital markets.
We're seeing demand erode and many businesses starting to suffer the effects of a switch to "just-in-case" from "just-in-time," according to S&P Global Inc. Inventories (which are to be sold at a loss) are piling up and workers are needed less.
That's a recession.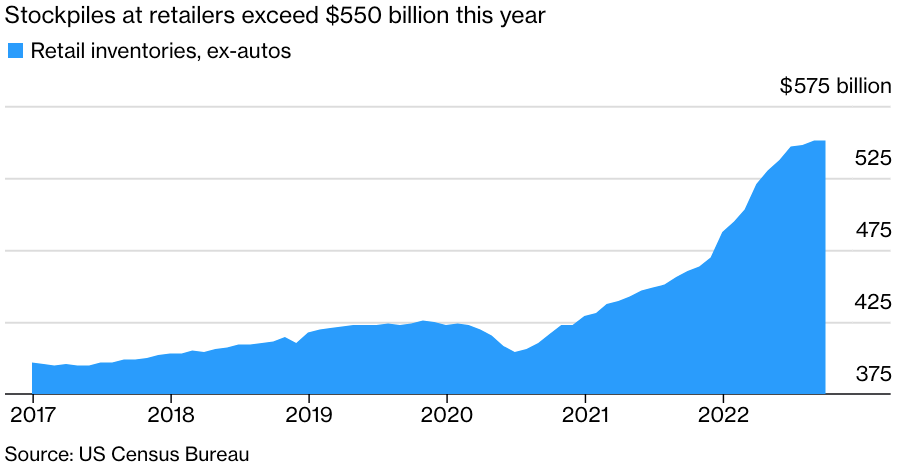 This said, the "risk of recession, whether it is real or merely implied by an inversion of the yield curve, won't deter the Fed from hiking rates higher faster or from injecting more volatility to build up negative wealth effects."
"Rallies could beget more forceful pushback from the Fed," which is a concern given the poor performance in implied volatility (IVOL) that's resulted in participants' disinterest in maintaining their hedges this year; equities' left tail is growing.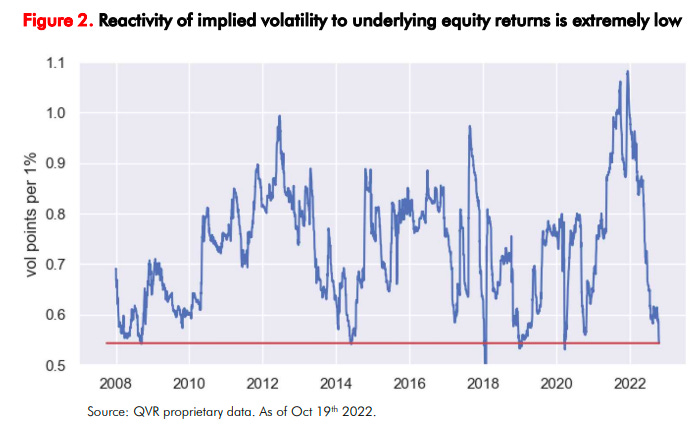 In summary, there's no longer "a disinterest and unimportance to cash flows." The commitment to reducing liquidity and credit has consequences on the real economy and asset prices which rose and kept the deflationary pressure of policies at bay.
It is elevated volatility and persistent declines that are to prompt investors to lower their selling prices in risk(ier) assets (e.g., options bets, metals, cryptocurrency and stablecoins, equities, bonds), and compete for cash.
Positioning
Based on traders' current positioning, the market, absent exogenous shocks, is more so prone to sharp upside reversals and a slow(er) grind lower.
As the former Bridgewater Associate Andy Constan explained to me once, therefore, you "want Deltas and leverage" via options trades that are defined risk and two-to-four months out in maturity.
We shall go more into this, later.
Technical
As of 8:45 AM ET, Wednesday's regular session (9:30 AM – 4:00 PM ET), in the S&P 500, is likely to open in the lower part of a negatively skewed overnight inventory, inside of prior-range and -value, suggesting a limited potential for immediate directional opportunity.
In the best case, the S&P 500 trades higher.
If above the $3,828.75 HVNode, the $3,874.25 HVNode is in play. Initiative trade beyond the latter could reach as high as the $3,909.25 MCPOC and $3,936.25 ONH, or higher.
In the worst case, the S&P 500 trades lower.
If above the $3,828.75 HVNode, the $3,806.25 LVNode is in play. Initiative trade beyond the latter could reach as low as the $3,787.00 VPOC and $3,727.00 VPOC, or lower.
Click here to load today's key levels into the web-based TradingView charting platform. Note that all levels are derived using the 65-minute timeframe. New links are produced, daily.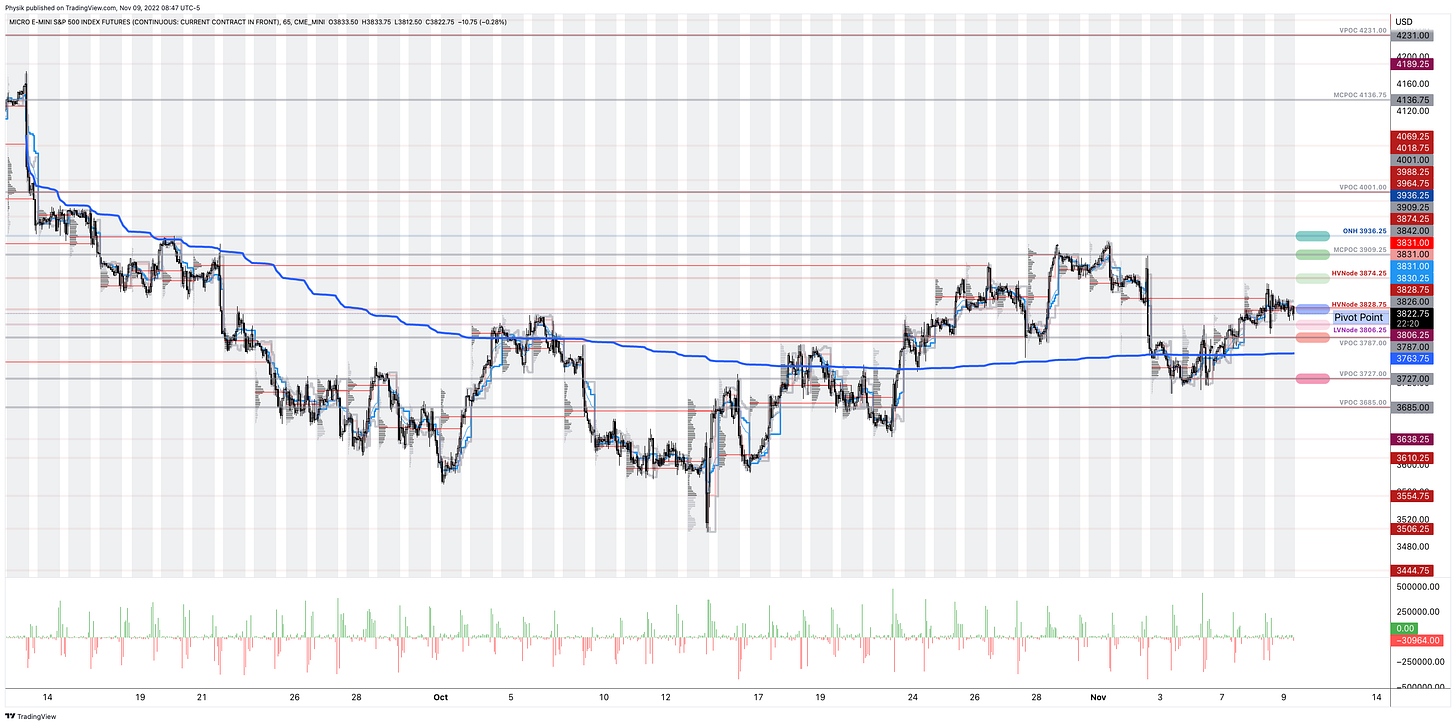 Definitions
Volume Areas: A structurally sound market will build on areas of high volume (HVNodes). Should the market trend for long periods of time, it will lack sound structure, identified as low volume areas (LVNodes). LVNodes denote directional conviction and ought to offer support on any test.
If participants were to auction and find acceptance into areas of prior low volume (LVNodes), then future discovery ought to be volatile and quick as participants look to HVNodes for favorable entry or exit.
POCs: POCs are valuable as they denote areas where two-sided trade was most prevalent in a prior day session. Participants will respond to future tests of value as they offer favorable entry and exit.
MCPOCs: POCs are valuable as they denote areas where two-sided trade was most prevalent over numerous day sessions. Participants will respond to future tests of value as they offer favorable entry and exit.
About
After years of self-education, strategy development, mentorship, and trial-and-error, Renato Leonard Capelj began trading full-time and founded Physik Invest to detail his methods, research, and performance in the markets.
Capelj also develops insights around impactful options market dynamics at SpotGamma and is a Benzinga reporter.
Some of his works include conversations with ARK Invest's Catherine Wood, investors Kevin O'Leary and John Chambers, FTX's Sam Bankman-Fried, ex-Bridgewater Associate Andy Constan, Kai Volatility's Cem Karsan, The Ambrus Group's Kris Sidial, among many others.
Disclaimer
In no way should the materials herein be construed as advice. Derivatives carry a substantial risk of loss. All content is for informational purposes only.