The daily brief is a free glimpse into the prevailing fundamental and technical drivers of U.S. equity market products. Join the 1,200+ that read this report daily, below!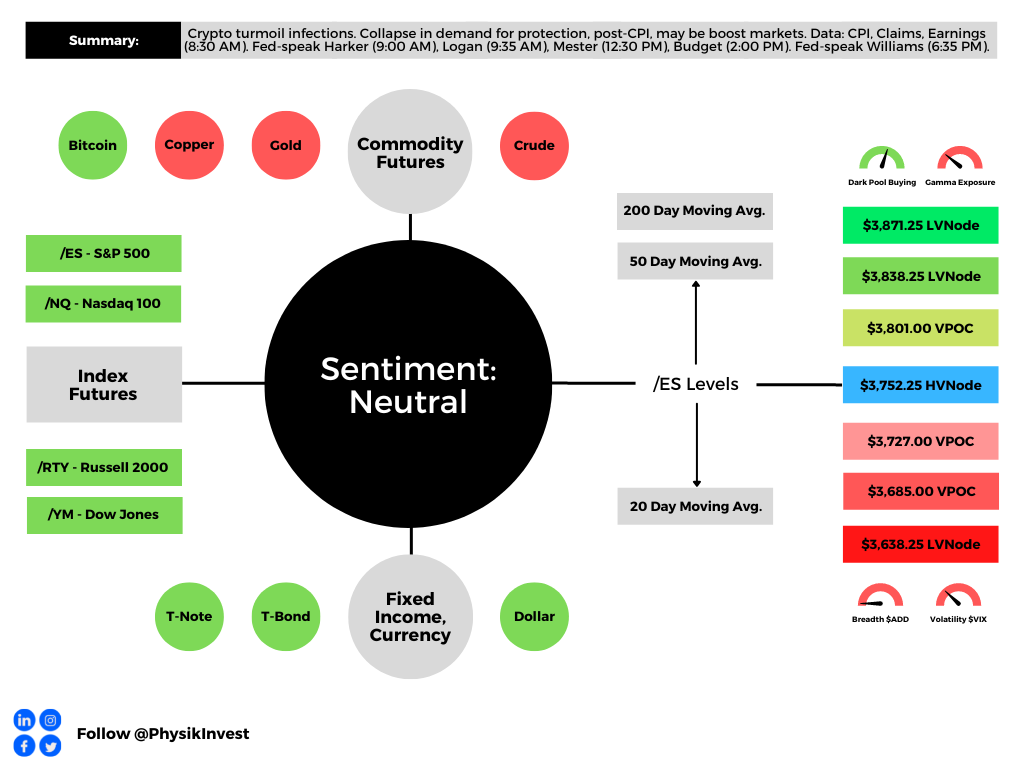 Administrative
Yesterday, this letter unpacked the events surrounding recent crypto-market turmoil. There were some loose ends we will continue to clean up below and in the coming letters.
Fundamental
As a recap, the "seemingly untouchable" FTX.com (CRYPTO: FTT) is on a path toward bankruptcy online reports appear to show. In short, the firm has a shortfall of ~$8 billion prompting investors like Sequoia Capital to write down the full value of their investments in FTX.com and FTX.US, the latter of which owns names like Blockfolio and LedgerX, and is allegedly "unaffected by its parent company's liquidity."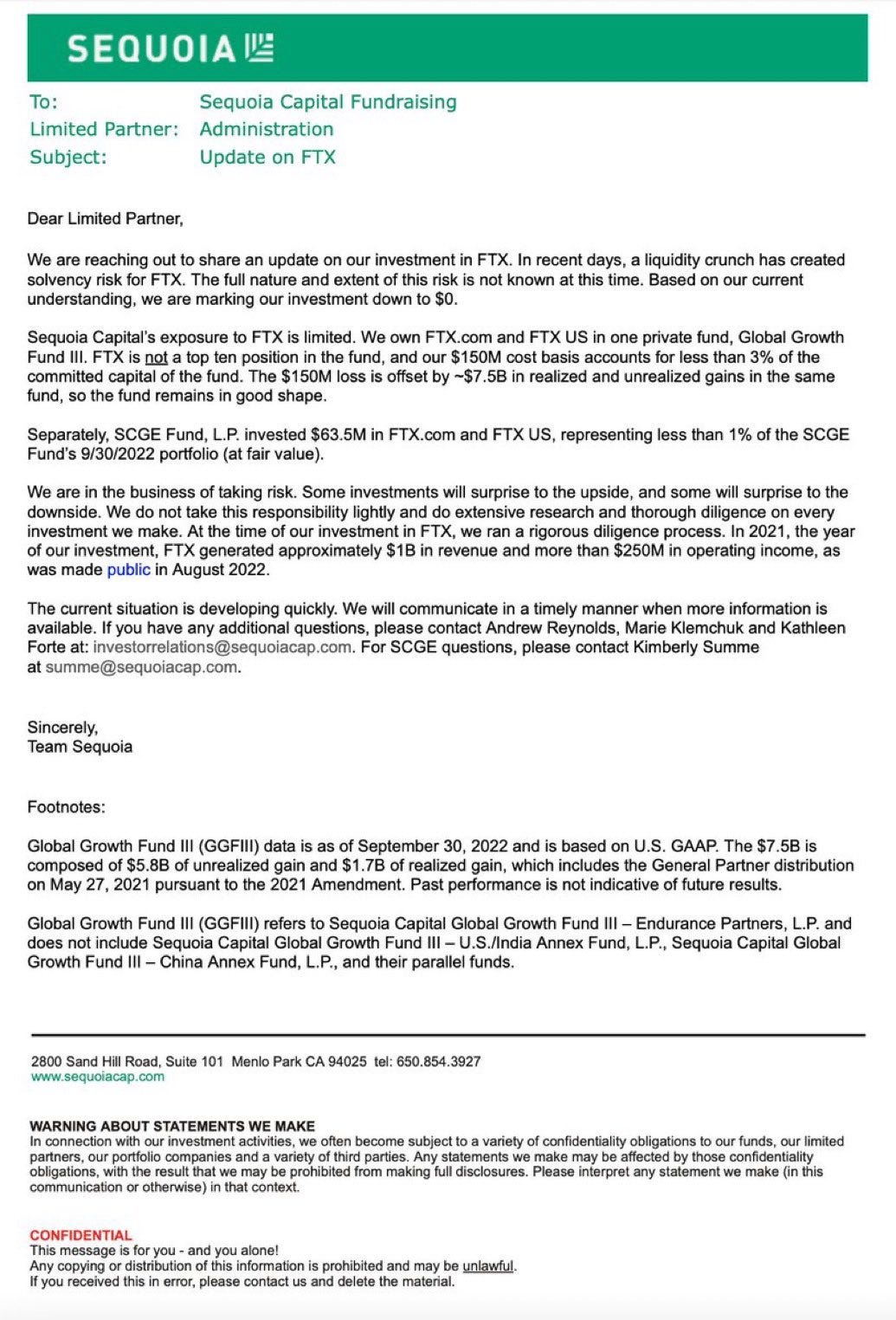 It's the case that, unlike what I was explained to by Sam Bankman-Fried (SBF), with FTX.com (not FTX.US which is required to hold customer assets 1:1) there is counterparty risk, of sorts. 
As well put by Bloomberg's Matt Levine, there's a timing problem that's "connected to a real economic risk." The safety provided by "systems that automatically liquidate trades" was overwhelmed by the dangers of volatility and a simultaneous bank run.
The complicated part is as follows: "whereas the basic model of Coinbase Global Inc (NASDAQ: COIN) is 'they buy Bitcoin (CRYPTO: BTC) for you and put it in an envelope,' the basic model of FTX has to be 'they lend your money to buy crypto and then make use of your crypto to get money.' In financial terms, they … rehypothecate your collateral; you can't expect them to just keep it in an envelope if they're lending you the money" for leveraged trading.
Accordingly, "[t]he reason for a run on FTX is if you think that FTX loaned Alameda [Research, a trading firm also founded by SBF], a bunch of customer assets and got back FTT in exchange. If that's the case, then a crash in the price of FTT will destabilize FTX. If you're worried about that, you should take your money out of FTX before the crash. If everyone is worried about that, they will all take their money out of FTX. But FTX doesn't have their money; it has FTT and a loan to Alameda. If they all take their money out, that's a bank run."
"[D]ue to recent revelations," Binance Holdings Ltd's (CRYPTO: BNB) founder Changpeng Zhao (CZ) was prompted to sell large FTT holdings. "People worried that this would tank the price of FTT and put pressure on FTX, so they started withdrawing money from FTX. FTX didn't have the money, and SBF started calling around asking for a loan or a bailout."
The proposed bailout has since been withdrawn and CZ established some major takeaways as a result of the event: "1: Never use a token you created as collateral [and] 2: Don't borrow if you run a crypto business. Don't use capital 'efficiently'. Have a large reserve."
Now that the deal has fallen through, Coinbase's CEO Brian Armstrong says it is likely users of FTX will "take losses."
In summary, Alameda and FTX were far closer than they appeared. Alameda tapped into some large reserves of FTT and used them as collateral when borrowing customer funds from FTX. 
Per The Milk Road: If "Alameda's investments go south, or the FTT collateral starts to dump in value, then Alameda goes down, and it pulls FTX down with it."
Some Knew Earlier Than Others:
A fall in volumes and market share, "splintered attention", the departure of executives including but not limited to FTX.US' Brett Harrison and Alameda's Sam Trabucco, "market manipulation allegations," and "bad bull market decisions" such as partaking in NFT community "Doodles' insane $54 million raise," were some of the reasons prompting users to turn on FTX early.
Potential Follow-On Implication:
As Kai Volatility's Cem Karsan puts eloquently, "[T]he collapse[s] of crypto will increasingly feed the [fire] of more traditional populism as its promise as a solution to the populism that fueled its ascent fades, leaving anger in its wake."
That's a narrative Karsan has maintained for as long as I can remember. Back in 2021, he and I spoke about the revolutionary technology of blockchain and its "broad association [and] use for cryptocurrency [being] tied up in the liquidity bubble that exists across all assets."
Read the Daily Brief for November 9 to better understand this "liquidity bubble that exists across all assets."
On the heels of scrutiny that was likely to come with some collapses, Karsan said there would likely be no "clear window where cryptocurrency is not subject to constraints," adding that it's likely "we move towards a digital dollar."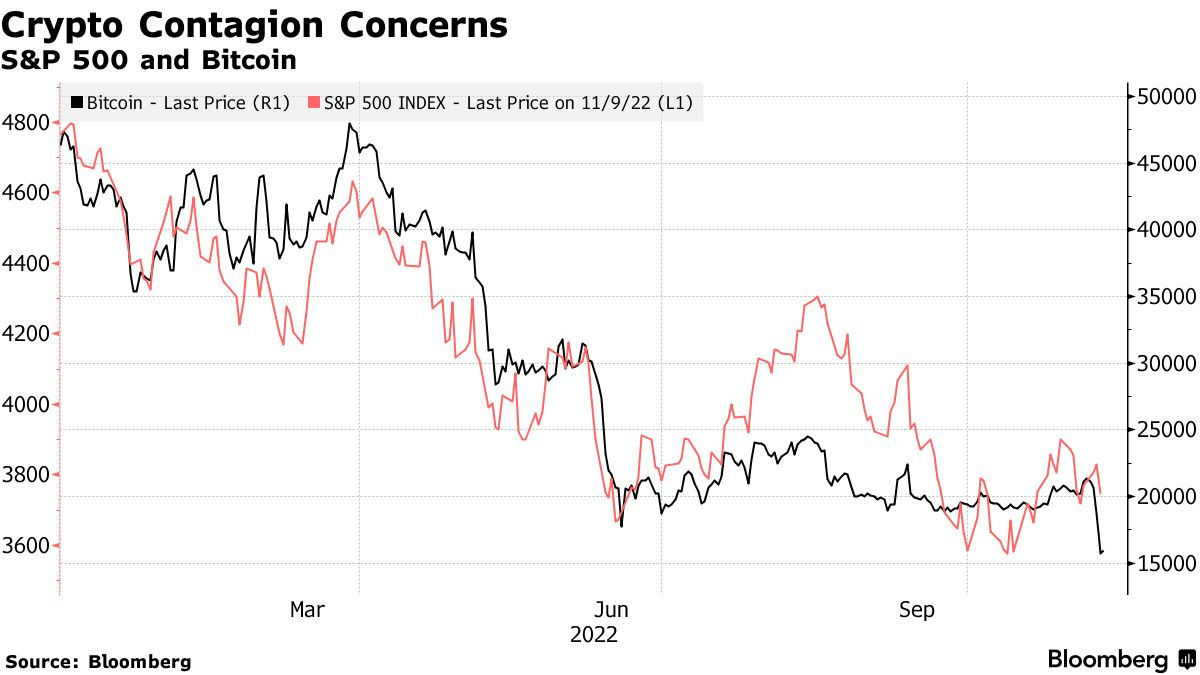 Circle (CRYPTO: USDC) co-founder and CEO Jeremy Allaire noted, too: 
"Once again, it's moments like these that require all of us to hold crypto to a higher standard, a standard with greater transparency and accountability, enshrined in practice and in law," adding that "Circle has no material exposure to FTX and Alameda."
A 'Good Practice For Indie Traders':
Independent volatility trader Darrin Johnson suggests traders "[s]weep excess cash into short-term T-notes or [money-market] accounts." In case of some catastrophic events, "securities will be reimbursed at a higher notional value than cash."
FTX's Roadmap 'For The Next Week':
An online whistleblower shared messages allegedly sent by SBF to employees. 
In short, SBF's "number one priority, right now, is to do right by customers." To do so requires "a raise" which "may end up being a combined FTX Int[ernational] and FTX.US infusion." Without a cash injection, the company would likely file for bankruptcy.
It's reported SBF et al transferred ~$4 billion in FTX funds (e.g., customer deposits) to help buoy Alameda Research after severe losses including a $500 million loan agreement with Voyager.
Technical
As of 8:00 AM ET, Thursday's regular session (9:30 AM – 4:00 PM ET), in the S&P 500, is likely to open in the upper part of a positively skewed overnight inventory, inside of prior-range and -value, suggesting a limited potential for immediate directional opportunity.
In the best case, the S&P 500 trades higher.
Any activity above the $3,752.25 HVNode puts into play the $3,801.00 VPOC. Initiative trade beyond the VPOC could reach as high as the $3,838.25 and $3,871.25 LVNode, or higher.
In the worst case, the S&P 500 trades lower.
Any activity below the $3,752.25 HVNode puts into play the $3,727.00 VPOC. Initiative trade beyond the latter could reach as low as the $3,685.00 VPOC and $3,638.25 LVNode, or lower.
Click here to load today's key levels into the web-based TradingView charting platform. Note that all levels are derived using the 65-minute timeframe. New links are produced, daily.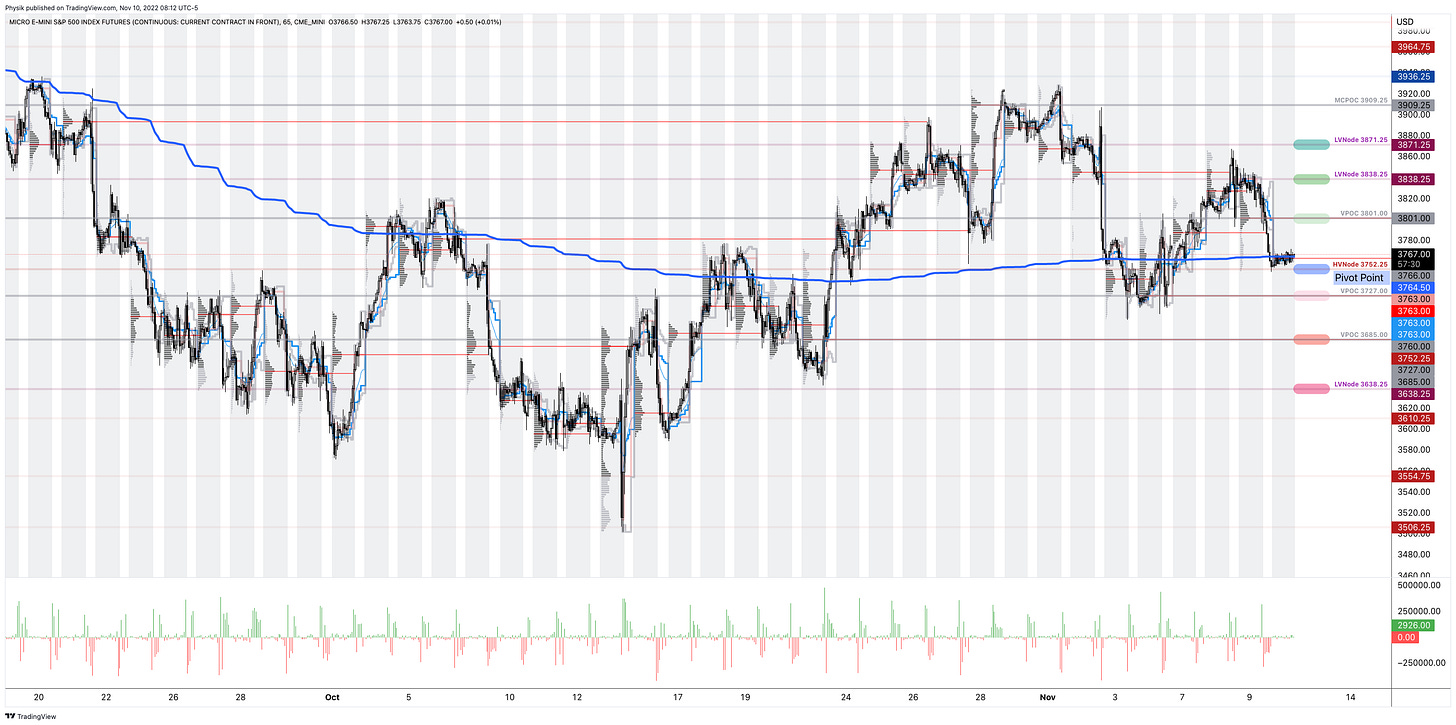 Considerations: Futures tied to the S&P 500 are trading within close proximity to a blue line in the above graphic. This blue line depicts a volume-weighted average price (VWAP) anchored to price action following the release of consumer price data on September 13, 2022.
The VWAP metric is highly regarded by chief investment officers, among other participants, for the quality of trade. Additionally, liquidity algorithms are benchmarked and programmed to buy and sell around VWAPs.
Should the S&P 500 auction away from this level, and come back to it, a prudent response is to fade. If the price is above the VWAP, and it auctions lower, into the VWAP, traders would buy. On the other hand, if the price is below the VWAP, and it auctions higher, into the VWAP, sell.
At this time, the S&P 500 is near VWAP offering traders lower (directional) opportunities.
Definitions
Volume Areas: A structurally sound market will build on areas of high volume (HVNodes). Should the market trend for long periods of time, it will lack sound structure, identified as low volume areas (LVNodes). LVNodes denote directional conviction and ought to offer support on any test.
If participants were to auction and find acceptance into areas of prior low volume (LVNodes), then future discovery ought to be volatile and quick as participants look to HVNodes for favorable entry or exit.
POCs: POCs are valuable as they denote areas where two-sided trade was most prevalent in a prior day session. Participants will respond to future tests of value as they offer favorable entry and exit.
About
After years of self-education, strategy development, mentorship, and trial-and-error, Renato Leonard Capelj began trading full-time and founded Physik Invest to detail his methods, research, and performance in the markets.
Capelj also develops insights around impactful options market dynamics at SpotGamma and is a Benzinga reporter.
Some of his works include conversations with ARK Invest's Catherine Wood, investors Kevin O'Leary and John Chambers, FTX's Sam Bankman-Fried, ex-Bridgewater Associate Andy Constan, Kai Volatility's Cem Karsan, The Ambrus Group's Kris Sidial, among many others.
Disclaimer
In no way should the materials herein be construed as advice. Derivatives carry a substantial risk of loss. All content is for informational purposes only.