Physik Invest's Daily Brief is read free by thousands of subscribers. Join this community to learn about the fundamental and technical drivers of markets.
---
Administrative
Please check out Friday's Daily Brief on the letter writer's discussion with Simplify's Michael Green. In that letter, we unpacked a variety of topics including the reliability of data, what this means for active management, derivatives trading, strength potential in markets, and things to be optimistic about.
Regarding today's letter, we shall take a less pessimistic view of the events that have transpired over the past few days involving the likes of Silvergate Capital Corporation (NYSE: SI) and SVB Financial Group (NASDAQ: SIVB). This too shall pass.
Fundamental
The pandemic stimulus had SIVB taking in "cash deposits as a combination of PPP loans, equity investments in VC and cash from new issues (including SPACS)," says Simplify's Michael Green who your letter writer spoke to for a Benzinga article. SIVB took these deposits and invested them into longer-dated bonds. At the time, these bonds were yielding 1% or so. SIVB "borrowed short (deposits) and lent long."
Eventually, monetary policy tightened.
SIVB's client base, many of who were "money-losing VC startups" drew on cash. With interest rates rising and losses on SIVB's bond portfolio growing, the bank decided to "designate the securities as 'held-to-maturity' where mark-to-market losses would not flow through the income statement."
With this HTM designation, the SIVB no longer had to hedge interest rate exposure. Unfortunately, with the rapid pace of interest rate increases, SIVB's unhedged bond portfolio fell sharply in value while withdrawals continued to increase.
Green summarizes it well: "With deposits cratering, SVB is forced to begin selling the HTM portfolio to obtain liquidity. This action will push the unrealized losses from the HTM portfolio onto the income statement and impair SVB's equity. Hence the need to raise equity capital."
Moreover, as news of capital raises spread, and given that most depositors' accounts were valued in excess of the FDIC's insurance limits, withdrawals accelerated further.
"Roughly 25% of total deposits" flowed out. "There is no bank that can survive this," Green put forth. The risk with SIVB was fear/panic and contagion; the depositors have employees to pay and their business to conduct (e.g., Circle minting and redemption of USDC, a major source of collateral in the crypto-verse).
Consequently, SIVB entered receivership and the FDIC sought buyers. If the latter were to fail, the FDIC would have sold off SIVB's assets to make good on deposits.
And, in another case, authorities could safeguard or guarantee uninsured deposits with a new deposit insurance fund banks pay into (i.e., not a cost to taxpayers or a bailout). And, that's basically what the authorities decided to do.
On Sunday, authorities announced emergency measures to guarantee all deposits of SIVB and shore up confidence in the US banking system.
Per a Wall Street Journal article, the government's bank-deposit insurance fund will cover all deposits, rather than the measly $250,000.00. Additionally, any losses to the fund would be "recovered in a special assessment on banks and the US taxpayers wouldn't bear any losses." The Federal Reserve, in separate statements, said it would make additional funds available to banks through the "Bank Term Funding Program" which offers loans up to a year out with Treasuries and mortgage-backed securities, among other assets owned by banks, pledged as collateral. In short, the program signals banks don't have to liquidate securities and realize losses to raise cash.
"Many of those securities have fallen in value as the Fed has raised interest rates," the WSJ adds. "The terms would allow banks to borrow at 100 cents on the dollar for securities trading potentially well below that value, potentially putting the government at risk of losses incurred by banks. Critics said the move would essentially offer a backdoor subsidy to bank investors and management for failing to properly manage interest-rate risks."
"The new facility provides cheap and under-secured loans – the exact opposite of good central banking," former Fed trader Joseph Wang explains. "A bank can take collateral trading at $0.90 and borrow a $1.00 from the facility at below market rates." This suggests the "Administration has decided to socialize the banking sector."
The turmoil has muddied the outlook on interest rates. Higher for longer was the case heading into the end of last week. Traders now think the terminal/peak rate sits at 4.75-5.00%. Following the spring timeframe, traders think the Fed starts to ease.
Technical
As of 6:40 AM ET, Monday's regular session (9:30 AM – 4:00 PM ET), in the S&P 500, is likely to open in the lower part of a balanced overnight inventory, inside of the prior day's range, suggesting a limited potential for immediate directional opportunity.
The S&P 500 pivot for today is $3,884.75.
Key levels to the upside include $3,921.75, $3,945.00, and $3,970.75.
Key levels to the downside include $3,868.25, $3,847.25, and $3,822.25.
Disclaimer: Click here to load the updated key levels via the web-based TradingView platform. New links are produced daily. Quoted levels likely hold barring an exogenous development.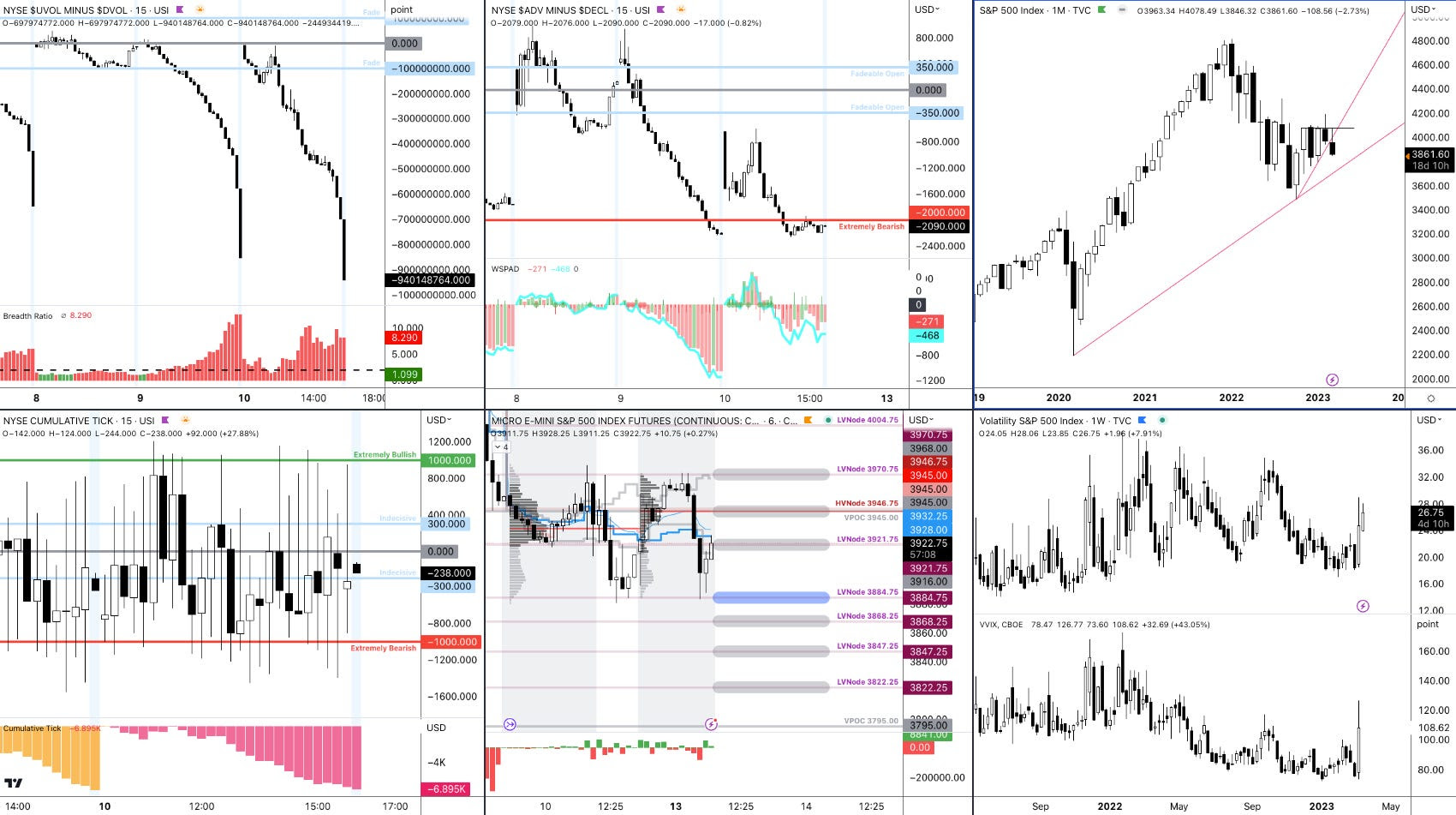 ---
Definitions
Volume Areas: Markets will build on areas of high-volume (HVNodes). Should the market trend for a period of time, this will be identified by a low-volume area (LVNodes). The LVNodes denote directional conviction and ought to offer support on any test.
If participants auction and find acceptance in an area of a prior LVNode, then future discovery ought to be volatile and quick as participants look to the nearest HVNodes for more favorable entry or exit.
POCs: Areas where two-sided trade was most prevalent in a prior day session. Participants will respond to future tests of value as they offer favorable entry and exit.
---
About
The author, Renato Leonard Capelj, spends the bulk of his time at Physik Invest, an entity through which he invests and publishes free daily analyses to thousands of subscribers. The analyses offer him and his subscribers a way to stay on the right side of the market.
Separately, Capelj is an accredited journalist with past works including interviews with investor Kevin O'Leary, ARK Invest's Catherine Wood, FTX's Sam Bankman-Fried, North Dakota Governor Doug Burgum, Lithuania's Minister of Economy and Innovation Aušrinė Armonaitė, former Cisco chairman and CEO John Chambers, and persons at the Clinton Global Initiative.
Connect
Direct queries to renato@physikinvest.com. Find Physik Invest on Twitter, LinkedIn, Facebook, and Instagram. Find Capelj on Twitter, LinkedIn, and Instagram. Only follow the verified profiles.
Calendar
You may view this letter's content calendar at this link.
Disclaimer
Do not construe this newsletter as advice. All content is for informational purposes. Capelj and Physik Invest manage their own capital and will not solicit others for it.