Physik Invest's Daily Brief is read by over 1,200 people. To join this community and learn about the fundamental and technical drivers of markets, subscribe below.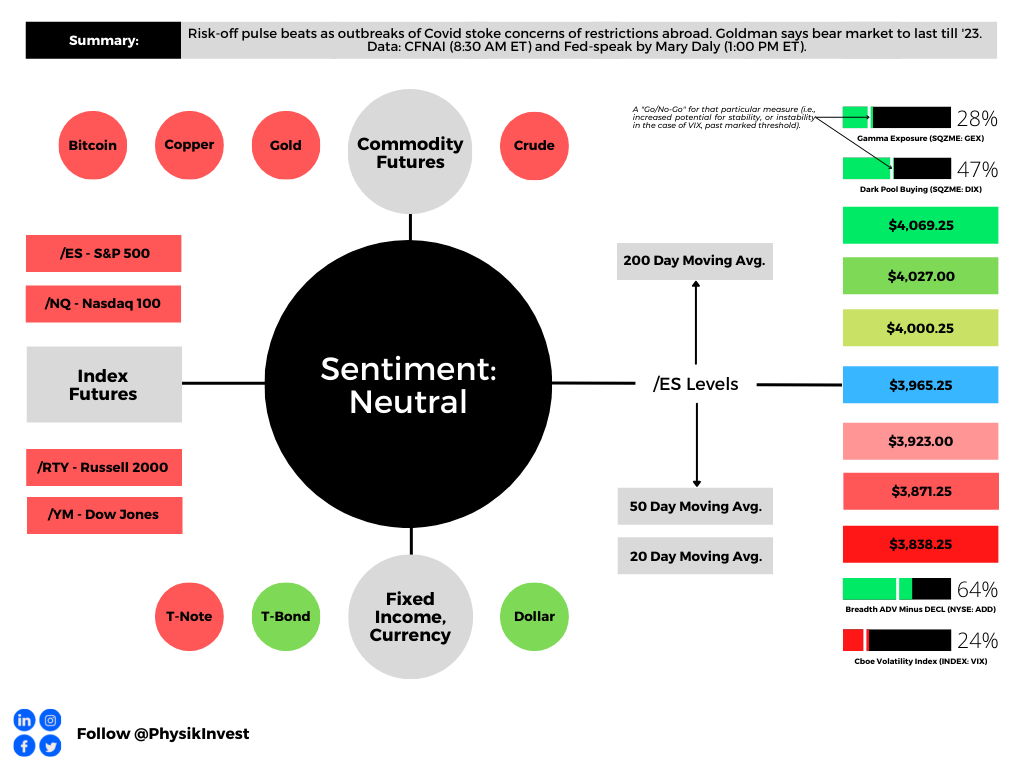 Administrative
Running to the desk this morning. Therefore, a shorter letter followed by more detail later this week. The Daily Brief will be paused this week on both Thursday, November 24, and Friday, November 25, 2022.
Separately, I will be back in Paris next month. If you are close, contact me!
Fundamental
Starting the week of light. Areas of focus for the remainder of the week will include money flow, a brush-up on some statements regarding positioning last week, and, finally, some geopolitical developments and their potential implications.
My favorite reads and listens this weekend included the newest issue of DC's Chartbook, one podcast titled "The Impact of Secular Inflation ft. Cem Carsan", and Dr. Pippa Malmren's letter on nukes, crypto, and a digital dollar. I re-read Andreas Steno Larsen's October 30 letter after reading a UBS Group AG note on the potential for continued dollar strength, as well. And give praise to FXMacroGuy and The Transcript on all the measures and talk they are following.
Take care, everyone! More detail coming over the next couple of days.
Positioning
Please read the Daily Brief published November 16 for detailed context and November 18 for some added context.
That said, there was a big options expiration that cleared the deck of some of that sticky positioning we talked about in those linked notes.
As stated on Friday, however, that's not outright bearish. That's because of the lower liquidity environment and Holiday period pulling forward some of the Delta buyback linked to the decay of options with respect to the passage of time (Charm), and traders' potential disinterest in owning protection through Thanksgiving.
Technical
As of 7:00 AM ET, Monday's regular session (9:30 AM – 4:00 PM ET), in the S&P 500, is likely to open in the lower part of a negatively skewed overnight inventory, inside of prior-range and -value, suggesting a limited potential for an immediate opportunity.
Our S&P 500 pivot for today is $3,965.25.
Key levels to the upside include $4,000.25, $4,027.00, and $4,069.25.
Key levels to the downside include $3,923.00, $3,871.25, and $3,838.25.
Click here to load today's key levels into the web-based TradingView platform. All levels are derived using the 65-minute timeframe. New links are produced, daily.
Considerations: Bigger participants are probably waiting for more information before entering and initiating an expansion of the range. For that reason, our key levels have been held to the tick, per the below. Our Daily Brief for November 18, 2022, went into why this type of push-and-pull occurs in detail.
Definitions
Volume Areas: A structurally sound market will build on areas of high volume (HVNodes). Should the market trend for long periods of time, it will lack sound structure, identified as low volume areas (LVNodes). LVNodes denote directional conviction and ought to offer support on any test.
If participants were to auction and find acceptance into areas of prior low volume (LVNodes), then future discovery ought to be volatile and quick as participants look to HVNodes for favorable entry or exit.
POCs: POCs are valuable as they denote areas where two-sided trade was most prevalent in a prior day session. Participants will respond to future tests of value as they offer favorable entry and exit.
MCPOCs: POCs are valuable as they denote areas where two-sided trade was most prevalent over numerous day sessions. Participants will respond to future tests of value as they offer favorable entry and exit.
About
After years of self-education, strategy development, mentorship, and trial-and-error, Renato Leonard Capelj began trading full-time and founded Physik Invest to detail his methods, research, and performance in the markets.
Capelj also writes options market analyses at SpotGamma and is a Benzinga journalist.
His past works include private discussions with ARK Invest's Catherine Wood, investors Kevin O'Leary and John Chambers, the infamous Sam Bankman-Fried of FTX, former Bridgewater Associate Andy Constan, Kai Volatility's Cem Karsan, The Ambrus Group's Kris Sidial, the Lithuanian Delegation's Aušrinė Armonaitė, among many others.
Contact
Direct queries to renato@physikinvest.com or Renato Capelj#8625 on Discord.
Disclaimer
Do not construe this newsletter as advice. All content is for informational purposes.