Physik Invest's Daily Brief is read by thousands of subscribers. You, too, can join this community to learn about the fundamental and technical drivers of markets.
---
Positioning
The cross-cutting forces on inflation are set to net out says Bob Elliott, the CIO at Unlimited. The former Bridgewater Associates executive thinks short-term inflation pressures are skewed upward, and that new data suggests "the respite in inflation … is probably going to fade and higher numbers are going to print."
In short, disinflation from oil prices and the amelioration of supply chains "cannot persist, and that's what we're seeing now. It looks like those upward pressures on inflation are moving faster than the pace that services prices and housing costs are moving down."
Consequently, there is a potential for broad inflation measures to remain higher for longer, hence the thinking that the Federal Reserve (Fed) indeed stays tougher on inflation for longer (i.e., higher rates for longer). This would support traders' recent desire to bet large on downside movement next week when the Consumer Price Index (CPI) is set to update.
Publicized by Kai Volatility's Cem Karsan and Damped Spring's Andy Constan, some trader(s) bought to open 24,000 put options at the $4,050.00 S&P 500 (FUTURE: /ES) strike expiring February 17, 2023. The trade coincided with market makers selling to open "roughly 7,200 [/ES] futures contracts worth roughly $1.5 billion." This "caused the local low," Constan, who also worked at Bridgewater (and your letter writer had the honor of interviewing before), explained.
This trade, and others like it, compounded the pressures of the dealers selling their existing stock and futures "to re-hedge their call options exposures that are declining in value."
Accordingly, the Cboe Volatility Index (INDEX: VIX) is bid, as is the Cboe VIX Volatility Index (INDEX: VVIX), which your letter writer talked about in a SpotGamma note last night. Basically, traders are hedging more, and this is observed by previously low readings of convexity moving higher. Still, given that there is still some time to CPI, there's potential for "current prices the SPX trades at [to] appear sticky for lack of better phrasing," SpotGamma explained; pre-CPI, traders often sell short-term volatility as a bet on limited movement. It's the post-CPI expirations in which implied volatility (IVOL) is wound and will serve as a catalyst for a fast move higher or lower.
So, in the short-term, there may be some pinning, followed by an expansion of range into the mid-February (2/17) monthly options expiration (OpEx). This event likely puts the market in a precarious position and at the whims of macro-type repositioning, which may be bearish based on the insights this letter has covered in the past.
Trades that look and are working well include those that use short-call vertical credits to finance long-put vertical debits out months from now. For instance, for every two units of short call verticals (SOLD -1 VERTICAL SPX 100 19 MAY 23 [AM] 4150/4200 CALL), your letter writer is looking to own one unit of the long put vertical (BUY +1 VERTICAL SPX 100 16 JUN 23 [AM] 3450/3350 PUT). Remember that your letter writer may not necessarily think the market will trade that far, rather it may be a bet on IVOL repricing.
A case study on last week's ultra-successful call ratio spreads is coming soon. Take care and watch your risk!
Technical
As of 7:20 AM ET, Thursday's regular session (9:30 AM – 4:00 PM ET), in the S&P 500, is likely to open in the upper part of a positively skewed overnight inventory, inside of the prior day's range, suggesting a limited potential for immediate directional opportunity.
The S&P 500 pivot for today is $4,168.75.
Key levels to the upside include $4,189.00, $4,202.75, and $4,214.25.
Key levels to the downside include $4,153.25, $4,136.25, and $4,122.75.
Disclaimer: Click here to load the updated key levels via the web-based TradingView platform. New links are produced daily. Quoted levels likely hold barring an exogenous development.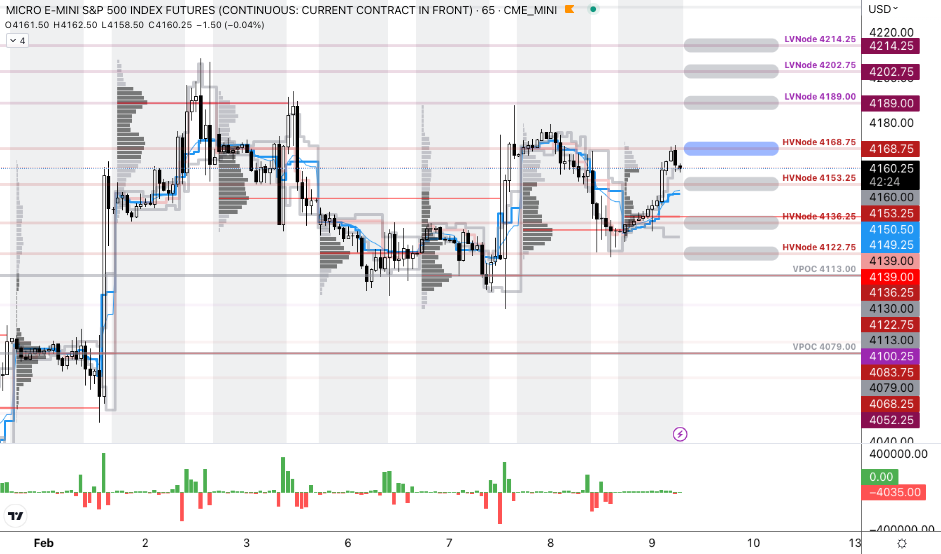 ---
Definitions
Volume Areas: Markets will build on areas of high-volume (HVNodes). Should the market trend for a period of time, this will be identified by a low-volume area (LVNodes). The LVNodes denote directional conviction and ought to offer support on any test.
If participants auction and find acceptance in an area of a prior LVNode, then future discovery ought to be volatile and quick as participants look to the nearest HVNodes for more favorable entry or exit.
---
About
The author, Renato Leonard Capelj, works in finance and journalism.
Capelj spends the bulk of his time at Physik Invest, an entity through which he invests and publishes free daily analyses to thousands of subscribers. The analyses offer him and his subscribers a way to stay on the right side of the market. Separately, Capelj is an options analyst at SpotGamma and an accredited journalist.
Capelj's past works include conversations with investor Kevin O'Leary, ARK Invest's Catherine Wood, FTX's Sam Bankman-Fried, Lithuania's Minister of Economy and Innovation Aušrinė Armonaitė, former Cisco chairman and CEO John Chambers, and persons at the Clinton Global Initiative.
Connect
Direct queries to renato@physikinvest.com or find Physik Invest on Twitter, LinkedIn, Facebook, and Instagram.
Calendar
You may view this letter's content calendar at this link.
Disclaimer
Do not construe this newsletter as advice. All content is for informational purposes.