Physik Invest's Daily Brief is read by thousands of subscribers. You, too, can join this community to learn about the fundamental and technical drivers of markets.
---
Administrative
In last week's letters, we discussed, mainly, fundamental and positioning contexts. Today's letter will add to the discussion on the positioning.
Positioning
Last week, for an article published on Benzinga.com over the weekend, your letter writer spoke with The Ambrus Group's co-chief investment officer Kris Sidial. Shared were the things to look out for in 2023 and tips for newer traders. The article can be viewed here, at this link.
In short, there are four big takeaways.
First, though options prices could stay under pressure, naive measures like the VVIX, which is the volatility of the VIX, or the volatility of the S&P 500's volatility, are printing at levels last seen in 2017. This means "we can get cheap exposure to convexity while a lot of people are worried."
Second, on the other side of the growing S&P 500 and VIX complexes is a small concentrated group of market makers taking on far more exposure to risk.
During moments of stress, these market makers may be "unable to keep up with the demands of frenetic investors," Sidial said, pointing to GameStop Corporation (NYSE: GME) where "there was this reflexive dynamic" that helped push the stock higher in 2021.
"That same dynamic can happen on the way down"; market makers will mark up options prices during intense selling. As the options prices rise, options deltas (i.e., their exposure to direction) rise and this prompts so-called bearish vanna hedging flows.
"Imagine a scenario where [some disaster happens] and everybody starts buying 0 DTE puts. That's going to reflexively drive the S&P lower," Sidial said. "Take, for example, the JPMorgan collar position that clearly has an effect on the market, and people are starting to understand that effect. That's just one fund. Imagine the whole derivative ecosystem" leaning one way.
The third is in reference to liquidity. As private market investors' "deals are getting marked down, [t]o source liquidity, they may have to sell some of their holdings in the public equity markets." Benn Eifert, the CIO at QVR Advisors, recently put forth that "late-stage technology is a great example where public comps are down 80-90% but privates marked down 20% or not at all. It is possible to imagine large institutions engaging in forced selling of liquid public equities to meet capital calls in private fund investments."
And, lastly, investors often go "back and forth" and do not stick to a strict process. In trying to pick what will work at one specific time, investors can "miss what is going to work in the future." Consequently, Sidial says investors should have an outlook and process to express that outlook. "It's not as easy as saying: 'Buy volatility because it's cheap or sell it because it is expensive.'"
As a validation, in the Benzinga article, your letter writer wrote about 2017 when volatility was at some of its lowest levels. Back then, the correct trade was to sell volatility, in some cases, due to volatility's bimodality; if you sold volatility back then, you made money due to its clustering.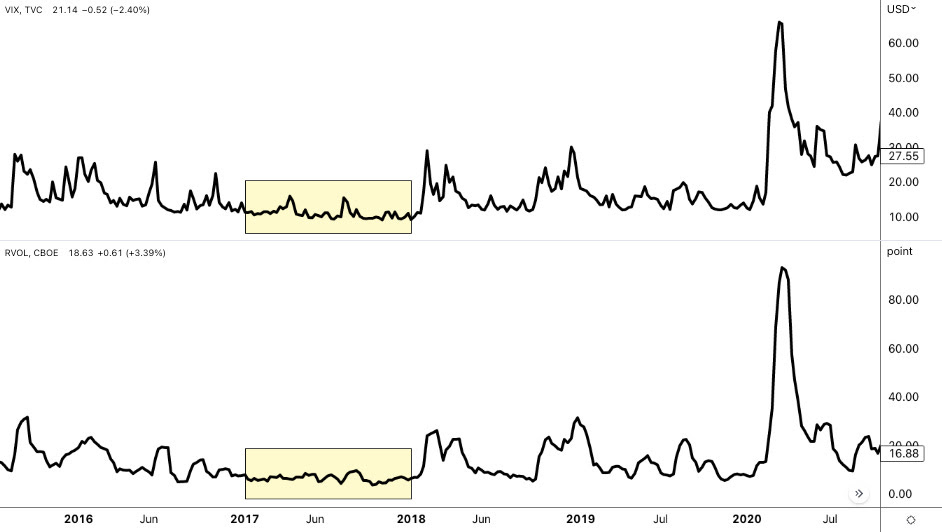 So, "if you're trading volatility, let there be an underlying catalyst for doing so." That said, from a "risk-to-reward perspective, … it's a better bet to be on the long volatility side," given "that there are so many things that … keep popping up" from a macro perspective.
For Ambrus' publicly available research, click here. Also, follow Sidial on Twitter, here. Consider reading your letter writer's past two conversations with Sidial, as well. Here is an article on 2021 and the meme stock debacle. Here is another article talking more about Ambrus' processes.
Technical
As of 7:50 AM ET, Monday's regular session (9:30 AM – 4:00 PM ET), in the S&P 500, is likely to open in the upper part of a positively skewed overnight inventory, outside of prior-range and -value, suggesting a potential for immediate directional opportunity.
Our S&P 500 pivot for today is $3,926.50.
Key levels to the upside include $3,943.25, $3,960.25, and $3,979.75.
Key levels to the downside include $3,908.25, $3,891.00, and $3,874.25.
Click here to load today's key levels into the web-based TradingView platform. All levels are derived using the 65-minute timeframe. New links are produced, daily.

As a disclaimer, note the S&P 500 could trade beyond the levels quoted in the letter. Therefore, you should load the key levels on your browser.
---
Definitions
Volume Areas: Markets will build on areas of high-volume (HVNodes). Should the market trend for long periods of time, it will be identified by low-volume areas (LVNodes). LVNodes denote directional conviction and ought to offer support on any test.
If participants auction and find acceptance in an area of a prior LVNode, then future discovery ought to be volatile and quick as participants look to HVNodes for favorable entry or exit.
Vanna: The rate at which the Delta of an option changes with respect to implied volatility.
POCs: Denote areas where two-sided trade was most prevalent in a prior day session. Participants will respond to future tests of value as they offer favorable entry and exit.
MCPOCs: Denote areas where two-sided trade was most prevalent over numerous sessions. Participants will respond to future tests of value as they offer favorable entry and exit.
---
About
In short, an economics graduate working in finance and journalism.
Capelj spends most of his time as the founder of Physik Invest through which he invests and publishes daily analyses to subscribers, some of whom represent well-known institutions.
Separately, Capelj is an equity options analyst at SpotGamma and an accredited journalist interviewing global leaders in business, government, and finance.
Past works include conversations with investor Kevin O'Leary, ARK Invest's Catherine Wood, FTX's Sam Bankman-Fried, Lithuania's Minister of Economy and Innovation Aušrinė Armonaitė, former Cisco chairman and CEO John Chambers, and persons at the Clinton Global Initiative.
Contact
Direct queries to renato@physikinvest.com or Renato Capelj#8625 on Discord.
Calendar
You may view this letter's content calendar at this link.
Disclaimer
Do not construe this newsletter as advice. All content is for informational purposes.