Physik Invest's Daily Brief is read by thousands of subscribers. You, too, can join this community to learn about the fundamental and technical drivers of markets.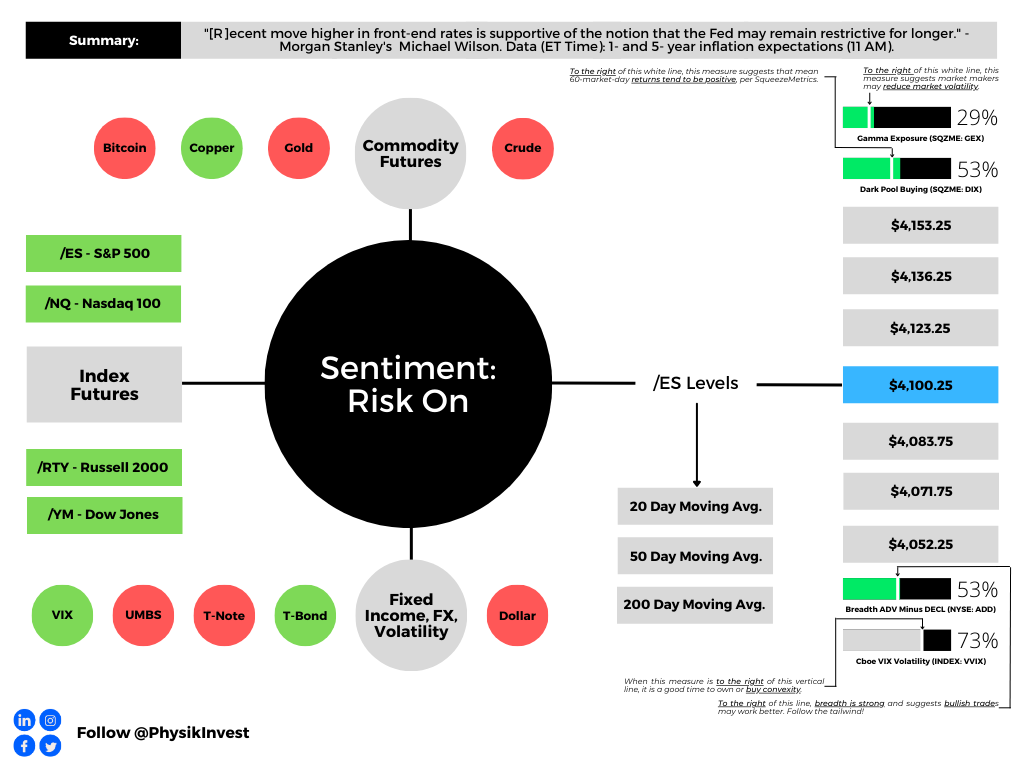 ---
Administrative
Improving the dashboard, above, per subscribers' requests. The newest addition is the price of the 30-year Uniform Mortgage-Backed Security (UMBS); the trading of MBSs moves mortgage rates.
If any recommendations on what you would like to see in the above dashboard, please comment below. Have a great day!
Fundamental
This a brief letter while, in the background, your letter writer works on something substantial to provide you in the coming days.
In the meantime, let's look past the doom and gloom. In short, this week is set to be pivotal, particularly a day or two after the release of consumer price updates. In the meantime, there will be breaks that are likely to fail. Caution on commitment.
Technical
As of 7:20 AM ET, Monday's regular session (9:30 AM – 4:00 PM ET), in the S&P 500, is likely to open in the upper part of a negatively skewed overnight inventory, outside of the prior day's, suggesting a potential for immediate directional opportunity.
The S&P 500 pivot for today is $4,100.25.
Key levels to the upside include $4,123.25, $4,136.25, and $4,153.25.
Key levels to the downside include $4,083.75, $4,071.75, and $4,052.25.
Disclaimer: Click here to load the updated key levels via the web-based TradingView platform. New links are produced daily. Quoted levels likely hold barring an exogenous development.
---
Definitions
Volume Areas: Markets will build on areas of high-volume (HVNodes). Should the market trend for a period of time, this will be identified by a low-volume area (LVNodes). The LVNodes denote directional conviction and ought to offer support on any test.
If participants auction and find acceptance in an area of a prior LVNode, then future discovery ought to be volatile and quick as participants look to the nearest HVNodes for more favorable entry or exit.
---
About
The author, Renato Leonard Capelj, works in finance and journalism.
Capelj spends the bulk of his time at Physik Invest, an entity through which he invests and publishes free daily analyses to thousands of subscribers. The analyses offer him and his subscribers a way to stay on the right side of the market. Separately, Capelj is an options analyst at SpotGamma and an accredited journalist.
Capelj's past works include conversations with investor Kevin O'Leary, ARK Invest's Catherine Wood, FTX's Sam Bankman-Fried, Lithuania's Minister of Economy and Innovation Aušrinė Armonaitė, former Cisco chairman and CEO John Chambers, and persons at the Clinton Global Initiative.
Connect
Direct queries to renato@physikinvest.com or find Physik Invest on Twitter, LinkedIn, Facebook, and Instagram.
Calendar
You may view this letter's content calendar at this link.
Disclaimer
Do not construe this newsletter as advice. All content is for informational purposes.